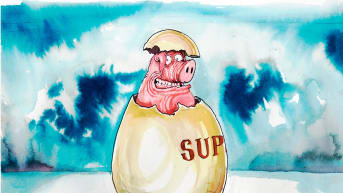 What would Abraham Lincoln think of the Productivity Commission's report into Australia's super system? A funny question I know, but amongst his charms those eight-score years ago was a lively interest in economics and an original mind – seriously.
He had his head screwed on when he said that government should "do for the people what needs to be done, but which they cannot, by individual effort, do at all, or do so well, for themselves".
In this spirit, Lateral Economics made a submission to the Commission proposing to ideologically 'complete' the idea of competitive neutrality – a term first coined right here in Australia when we led the world in competition policy reform from the early 1990s.
Competitive neutrality as currently understood requires that, if they compete with private firms, government enterprises should compete on a 'level playing field' with any unfair advantages – for instance in tax and planning – neutralised.
But as I proposed over two decades ago we should also take the converse idea seriously – that where governments are invested in providing services exclusively to some special group, anyone should have (unsubsidised) access to them.
So, given governments provide employee super schemes, we should all be able to access them. With super compulsory and the sector pervaded with market failure, this solves lots of problems.
Just as Medicare is an 'informed purchaser' and supervisor of sophisticated medical services, so government owned super schemes — like the Future Fund — can be informed purchasers of investment management services on our behalf. This interdicts many of the channels through which private financiers would otherwise feed their avarice – at our cost. Continue reading →