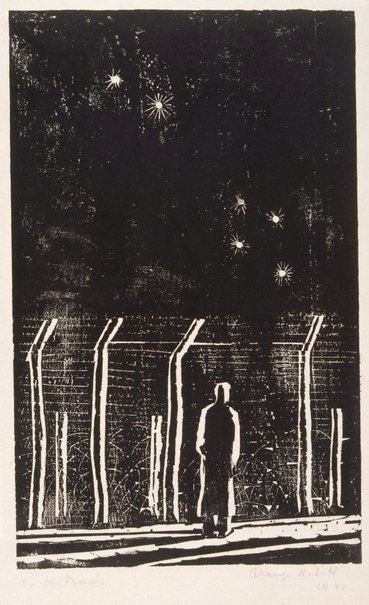 We've been celebrating the 60th anniversary of various events towards the end of the Second World War in the last few months, like V(E) day and the liberation of Auschwitz-Burkenau.
We can also celebrate the 65th anniversary of the landmarks of the first years of the war. I've been thinking of June 4th 1940, not just because I'm a fan of Churchill and this was one of the days he gave us one of his great speeches. I can't resist quoting the last, best known paragraph of the speech.
We shall go on to the end, we shall fight in France, we shall fight on the seas and oceans, we shall fight with growing confidence and growing strength in the air, we shall defend our Island, whatever the cost may be, we shall fight on the beaches, we shall fight on the landing grounds, we shall fight in the fields and in the streets, we shall fight in the hills; we shall never surrender, and even if, which I do not for a moment believe, this Island or a large part of it were subjugated and starving, then our Empire beyond the seas, armed and guarded by the British Fleet, would carry on the struggle, until, in God's good time, the New World, with all its power and might, steps forth to the rescue and the liberation of the old.
But there's another paragraph that is of greater significance for me.
We have found it necessary to take measures of increasing stringency, not only against enemy aliens and suspicious characters of other nationalities, but also against British subjects who may become a danger or a nuisance should the war be transported to the United Kingdom. I know there are a great many people affected by the orders which we have made who are the passionate enemies of Nazi Germany. I am very sorry for them, but we cannot, at the present time and under the present stress, draw all the distinctions which we should like to do. If parachute landings were attempted and fierce fighting attendant upon them followed, these unfortunate people would be far better out of the way, for their own sakes as well as for ours.
My father was one of the people thus interned, and thence shipped to Australia. This is no doubt one reason why I feel as upset as I do about what is going on within our borders today. As a result of these feelings some time ago my friend Lynne Gallagher asked me if I'd like to sponsor a soccer team of teenage Afghan refugees touring NSW and South East Queensland.
They were from the persecuted minority in Afghanistan – the Hazaras. I jumped at the opportunity. When I met them I was struck by how similar they were to how my father would have been. In my ignorance, I didn't think that the one thing those coming from Afghanistan would be after would be a good education. But that's what they were all passionate about. They wanted to be doctors, and architects and engineers.
What a sad and small minded business it has been tormenting these people on Temporary Protection Visas when there are no more coming here by boat and they could offer us so much (quite apart from any desire we might have to do what we can to protect them and lend them a hand after the traumas they've been through.)
In any event, over the fold is a speech I gave a couple of years ago at a dinner to raise funds for them in Sydney. I thought Troppodillians might find it of interest.
One bit of further reading, if you're interested is my father's memorial here.
* Illustration Desolation, Internment Camp, Hay, by Ludwig Hirschfeld Mack, Hay, 1940-1.
_________________________________________________________________

We live in confusing times. There are very few easy ways of being confident of being right about some public issues. Ideologies used to make our lives easier in this regard, but they seem to be wilting – if not altogether melting away as useful guides for public life.
I doubt if anyone of us here knows exactly what the 'right' thing to do is with regard to the great public issue of what Australia should do in the presence of a refugee population in the world that is larger than our own. Given that we cannot help them all how do we justify whom we decide to help, and – by implication – whom we have decided we will not help?
But at a time like this we can fall back on the idea that in the face of a task which dwarfs us, and everyone caught up in the suffering, we can put our best foot forward to help someone whom we can help. Indeed it goes to the very heart of our culture.
One does not need to be a practising Christian to be moved to one's core by the words of the New Testament.
For I was hungry, and you fed me. I was thirsty, and you gave me drink. I was a stranger, and you welcomed me. I was naked, and you clothed me. I was sick, and you visited me. I was in prison, and you came to me.
Religious ideas don't often survive the transition into political dogma, but it seems to me that these words are an important inspiration of multiculturalism. Or rather, one half of the idea. The idea, as I understand it, is that we don't have to look on the teeming millions of people less well off than ourselves as a threat. They are rather an opportunity – culturally and economically and if I might use an awkwardly bold word, spiritually.
In the modern world, New York was perhaps the first place to embrace this idea as a political sentiment. With the Statue of Liberty – also known more movingly as the 'Mother of Exiles' – proclaiming in New York harbour:
Give me your tired your poor,
Your huddled masses yearning to breathe free,
The wretched refuse of your teeming shore.
Send these, the homeless, tempest-tossed to me.
I think there are many reasons why I feel as strongly as I do about what we're supporting here tonight. All those capable of sympathy must surely sympathise with the refugee, because at the end of the day the defencelessness of the refugee is the essence of our makeup. If defencelessness is both our origin and the ultimate essence and our fate, we also feel passionately that the protection of the innocent and the defenceless is the greatest good we can do.
Another reason I feel so strongly about these issues is because my father was one of those homeless, tempest-tossed from a previous generation who found a home in this country. A person who illustrated what Sue Richardson said at a testimonial dinner for him after his death that Australia is good for the migrant and the migrant is good for Australia. Many of you would have heard of the ship the Dunera on which my father was shipped to this country.
I thought I would tell you some things about that time in our history. For they have a universal interest and relevance – never more so than today. My father, who had been sent to an English boarding school in 1936, was interned during a time shortly after the 'phoney war' of 1939. Over a matter of just a few weeks in early 1940, public opinion turned from tolerance to hostility with the publication of a series of hostile articles in the popular press.
People of German and Austrian origin were rounded up and interned. Many if not most of them had been through terrible dislocation if not great suffering already. And as with anything done so quickly and at such a scale, there were grave injustices and downright cockups.
Many months after war had been officially declared, the British realised they were fighting for their lives. In the very speech in which Churchill promised to 'fight them on the beaches' he apologised quite reasonably that in the circumstances in which Britain found itself, the internment of aliens could not make 'the distinctions we would like to make'.
What he was later to describe as a 'deplorable mistake' was then made, when it was decided to ship the internees elsewhere – a theme of British history to which Australians can relate. The internees were not told where they were going, but thousands were loaded onto a vessel that was promptly fired upon by German U-boats. It sank causing a loss of life on the same magnitude as the Titanic. The vessel was the Arandora Star. Assured they would not be put on another ship, a week later the survivors were forced to board the Dunera from the same dock that they had boarded the Arandora Star.
Hein Heckroth was a celebrated German artist and stage designer who had been forced out of Germany when the Nazis proscribed his work. He was interned and shipped aboard the Dunera without warning to his wife, whose last memory of him during that period was to arrange to meet for tea at the Ritz.
The trip to Australia – the inmates thought they were headed for Canada as was the Arandora Star – was a terrible ordeal. It commenced with looting the inmates' valuables, indeed virtually all their possessions on boarding the ship.
The inmates saw literally nothing of the air outside the ship for much of the voyage. The Dunera had also hardly got far before it too was fired upon by German U-boats. The prisoners, locked in the hold, thought they might die like rats. But the torpedoes exploded without seriously damaging the ship.
According to Dunera boy, Fred Lowen, some evidence has emerged in German archives that as the boat sailed down the coast of Africa and the guards continued to loot the inmates' luggage it was being tailed by a German U-boat. The U-boat picked up the refuse that the guards had thrown over-board. On telling its own commanders about the nature of the refuse – which included letters written in German – the U-boat was instructed not to fire.
The prisoners fought for the light under lamps to read. There was insufficient space on the floor for all to sleep, so some slept on tables while others slept in Hammocks. The inmates were not permitted proper access to toilets having to make do with a bucket that inevitably spilt with the rolling ship and worse . . . tipped over. When making a dash for the prohibited bathroom, one internee was stabbed with a bayonet by a guard. After a period without towels or soap, one towel was issued to every 10 men – from the rifled suitcases in the hold, and one piece of soap was distributed once or twice a week to every 10 men. The allowance for toilet paper was 2 sheets per person per day.
One could quote chapter and verse, but suffice it to say that many of the refugees had found when they got to Britain that the British were conspicuously kind – if oddly standoffish. But the Dunera was led by liars and thieves with a lack of concern for the inmates which frequently amounted to outright sadism.
My father's most vivid memory was being forced to run or walk fast around the deck with Lewis guns trained on them when on one occasion one of the guards threw an empty beer bottle into the fray. It broke and the prisoners were forced to maintain their exercise for the amusement of the guards.
On the arriving at Darling Harbour the commanding officer of the Dunera, Lieutenant-Colonel Scott offered the following 'personal views' to the Australian authorities concerning the three classes of passengers being carried.
(a) German Nazis. Having warned this group prior to sailing of my methods should trouble arise, . . . their behaviour has been exemplary. They are of a fine type, honest and straightforward, and extremely well- disciplined. I am quite prepared to admit however, that they are highly dangerous.

(b) Italians. This group are filthy in their habits, without a vestige of discipline, and are cowards to a degree.

(c) German and Austrian Jews. Can only be described as subversive liars, demanding and arrogant, and I have taken steps to bring them into my line of thought. They will quote any person from a Prime Minister to the President of the United States as personal references, and they are definitely not to be trusted in word or deed.
But right from the start, it was clear that the Dunera boys were a group of livewires. In the hold of the Dunera, they had drawn drawings, held lectures in philosophy, formed a debating society, fashioned chess sets out of maggoty bread-dough. And there was a humour that was eerily well suited to their new home. As they shuffled pale and emaciated down the gangway disembarking from a ship they had christened "The pick-pocket battleship" and "the luggage destroyer", some internees sang this song.
My luggage went into the ocean,
My luggage went into the sea,
Bring back, bring back,
Oh bring back my luggage to me.
On the train to Hay, the Dunera boys received packages from the Red Cross containing sandwiches and fresh fruit. For virtually all those I have talked to, it is one of their most vivid memories. The Americans have their Statue of Liberty. Perhaps the Australian equivalent, in our own rather downbeat idiom would be in the tradition of the giant pineapple and the giant lobster. A giant sandwich on Sydney Harbour!
Although they couldn't have known it, the Dunera boys got their first taste of a particular Australian approach to life when one of the Australian guards asked one of the prisoners to hold his rifle so the guard could roll a cigarette.
The next day they were interned in the sweet isolated NSW town of Hay with a massive dust storm blowing around their heads and a sign in the middle of the town unselfconsciously pointing the way to their new home with the words "concentration camp".
In the months that followed the men spent their spare time playing soccer, handball, putting on plays, playing in orchestras, starting a camp university of sorts amongst other things.
Most were far from self-pitying, even feeling guilty about their own safety compared with the carnage of the war and what they must imagine their own families might be going through.
Yet as the months wore on, the absurdity, sterility and uncertainty of their situation fed despair. Here was a body of exceptionally able men, keen to help defeat Hitler. Keen to help fight him themselves, and if not permitted to do that, to help in the war effort in whatever way they could. Yet their foreignness, their strangeness meant that it was more convenient to keep them away from other Australians. For while the Australian government acceded to British requests to host the internees with alacrity, there was always the firm insistence that this was temporary. They must not be able to settle in Australia.
Against this backdrop, George Rapp, began his poem "In Memoriam".
Have you heard my story most brave
of the thousand dead men without grave
in that wonderful town
with the moon upside down
and the wires in need of a shave?

Each man is a corpse, as he sits
decaying and doubting his wits
whilst far, far away,
where the night is the day
his world is breaking to bits. . . .
Ultimately, slowly, some sanity was restored to what was going on. After the fall of Singapore, when Australia faced dire manpower shortages, and the real fear of invasion, the men were permitted to join the army as non-combatant labourers – again subject to the very firm condition that they were to be deported at the end of the war.
But their luck was definitely turning. As Cyril Peal relates in his book, the new company was a remarkable body and its commander, Captain Broughton, who created it, a remarkable man.
He was a half-caste tattooed Maori. At the age of 16, by falsifying his age, he . . . served in the South African war. Fourteen years later he fought with the Maori Battalion on Gallipoli, was mentioned in dispatches, and commissioned. After the evacuation of Gallipoli, he served in France, and with a Russian regiment. Having overstated his age for the Boer War, he understated it by 16 years to fight in World War Two.
This is what one Dunera boy said about him on his death in 1955:
Keenly intelligent, well-read, endowed with a superb sense of humour, completely untainted by any racial prejudice… deeply interested in human beings, he did not only gain immediate respect and obedience, but also the love and affection of the unit. He enjoyed hugely being at its head, learned and meticulously respected Jewish customs, and was immensely proud of the unit because of the splendid work it did, humbly unaware of the fact that it was only he who could have turned these people into willing manual labourers. …
He engaged in incessant publicity war on our behalf and fought hard to have our status changed, only to be booted out by the Army eventually. After being shoved around as flotsam and jetsam for many years he managed… to make us feel like human beings again. He restored our faith in man, as something more than 92 per cent water and a few chemicals. He was a scholar and a gentleman.
This brings me to the ultimate points I want to make about the relevance of the Dunera story to the travails of today, and the travails through which those kids who we have all come here to help tonight are still going through.
Just as the Dunera boys sat in the camps at Hay and Tatura and as many asylum seekers sitting in camps dotted around the country, the boys are now enduring bittersweet freedom of uncertainty. None of us know if Australia as a nation will ultimately allow these Hazara boys full citizenship rights in Australia. But so in a much smaller way this is the dilemma of us all – writ large. We have only one option and that is to put our best foot forward.
When the Dunera boys were released into the 8th Employment Company they put their best foot forward. Though one suspects some irony, the inmates from the Dunera christened it the 8th Enjoyment Company. It wasn't quite what people were expecting, but the first Christmas at Hay saw the internees first review "Snow White Joins Up". And so, when they were released the denizens of Melbourne saw and enjoyed their first sophisticated review "Sergeant Snow White, a Happy-go-Lucky musical revue of bad old and good new times" in three acts and 22 scenes.
The tragi-comic review told how Snow White leaves her land of fairy tale, passes through a concentration camp in Europe, frustrates the designs of Fascism (represented by the wicked witch) and finally joins the Australian Army. In the last scene, "Calling All Cobbers", when the Queen is presented with a flower-bedecked "V-for-Victory", she cries "Ah! V for Vinston!"
The Tigers are going to put their best foot forward, in Brisbane, and Toowoomba, Armidale, Inverell, Dubbo, Canberra, Sydney, Bellingen and Lismore. They are going to take something unique to Australians around the country.
And Australians, like other people, are a funny lot. One moment they're scared of the thought that our beautiful land might be flooded with foreigners. But there's another part of us – not just friendly and easygoing and deeply amused that the guard passed his gun to the prisoner so he could light his cigarette, but passionately proud of our tolerance and hospitality to the defenceless.
When Kosovar refugees were flown to Australia just a few years ago there were detained in all sorts of remote places. But when Australians could get near them they wanted them to know they were welcome. The Kosovars staying in Brighton near Hobart were flooded with gestures of friendship. Businesses provided free clothes, food, meals, tours cinema tickets, the Hobart Mercury published articles in Albanian and a commercial TV station began the news one day in Albanian.
A former Prime Minister – Malcolm Fraser – not known for his emotionalism in public was rendered practically speechless with emotion as he explained that Australia could hold out a hand to those people swimming in the water after their boat had capsized. He choked repeatedly on his words as he explained what might have passed through the mind of a refugee when he was fished out of the water off Australia's coastline. "Australia has helped me. Thank you Australia. Now I'm safe".
The Dunera boys too provoked this kind of passion in their day, in Australia and before then, in England. Lieutenant-Colonel S. W. Slater conveyed his own passions on the point to internees on the Isle of Man:
It is my wish that every man who enters internment . . . shall be assured that nothing avoidable will be done that might add to his discomfort or unhappiness. . . . It is not a British characteristic to oppress the man who is powerless to retaliate… My duty is concerned with your security and discipline but my interest goes beyond this… I wish every permissible measure to be taken that can relieve your internment of its irksomeness … A man's internment is not regarded here as a reflection on his character. He is credited with being a man of good intent until he proves himself to be otherwise. There are among you men of widely divergent political views and religious beliefs. You will neither find favour nor encounter prejudice from us on this account.
Then in those long days as the Dunera boys worked on Station Pier and slept in tents at Royal Park and wondered where they would end up after the war, one article summed up something of what they meant to Australians who thought about it. The article was in – of all things – the army journal Salt.
You will find them on the docks, in warehouses, depots, dumps – the men whom Hitler hated. . . . First victims of the Nazi madness, the men … wear the Australian uniform pridefully, voluntarily. . . . This Company wants combatant service. . . . So far they have not been accepted but to become diggers is their highest ambition. To these men their Australian uniform is a symbol of tolerance, and decency. Australia and Australians have revived their flagging faith in mankind. We can be proud of that.
There was a happy ending to the Dunera story. After the war those Dunera boys who wanted to were able to stay. They helped build the Australia we have today. Amongst them there were handfuls of people who would become successful businessmen, professors, artists. One helped us win umpteen Olympic medals as one of our greatest coaches. And the list goes on. Having held out its hand Australia reaped rich rewards. And this was not just the case with the Dunera. It is a sobering fact that of the ten richest people in the country today exactly half came from refugee backgrounds!
We don't know whether the Hazara Tigers will be allowed to stay and share Australia with us. But I confidently predict that, whatever happens, and wherever they are in twenty, thirty and forty years time, the Hazara boys of the Tiger 11 will look upon their time during Easter 2002 as an intensely, unforgettably happy experience.
It will also be a time when their presence led some of the world's more fortunate people to reflect on their own good fortune. Thinking "there but for the grace of God go I" they did what they could to give the Hazara boys of the Tiger 11 the time of their lives.