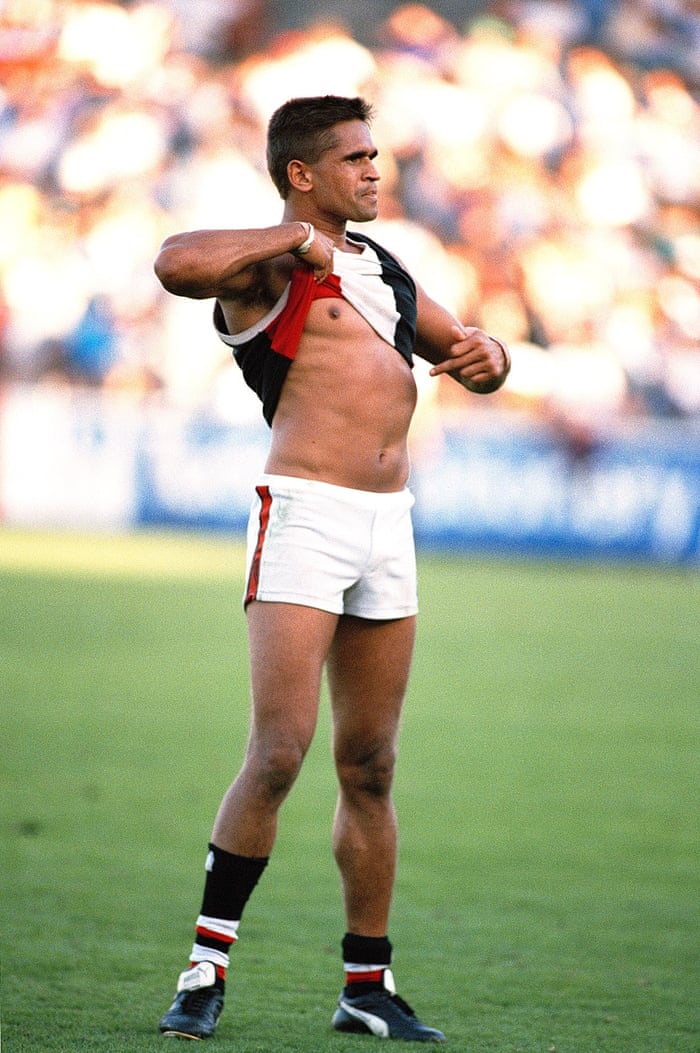 My team Collingwood has had an interesting involvement the modern social history of racism. At around the time of Pauline Hanson I used to argue that, though all the focus was on Pauline's contribution to making Australia more racist, we were in fact becoming dramatically less so. At the grass roots it seemed to me that, at least in the big cities, things like the AFL code against racism offered a much more optimistic perspective.
The AFL code of conduct on racism grew out of a football match between Collingwood and St Kilda where, in the face of racist taunts from the Collingwood crowd, Aboriginal player Nicky Winmar would lift his jumper and point to his skin and gesture to the Collingwood outer at Victoria Park that it was their problem not his.

The hapless Collingwood Club President Colin Allan McAlister said that Aboriginal people would do much better for themselves as long as they conducted themselves like white people. Hmmm . . . . Dear oh dear!
I may well be wrong, but my impression of McAlister's subsequent response was that he truly had a moment of revelation in which he realised how wrong he had been to say what he had said. (I've tried to get a good record of it on Google and I'm surprised I can't get it quickly, but I could only find the story I linked to above).
There followed what seemed to me to be a genuine apology and McAlister's participation in the establishment of the annual game between an aboriginal side and a non-aboriginal side. (A 'black v white' game seemed like something of a double-edged sword, particularly given how aggressively AFL is played, but it seems to have been a success.)
Two years after Winmar's stand the great Aboriginal player for Essendon, Michael Long complained about racial abuse from St Kilda's Damian Monkhorst and the AFL code of conduct on racism was brought in to great effect. Monkhorst is proud of his role in bringing it in! It has surely done much to make racism of both the casual and the hateful kind much less acceptable right through the mainstream of our society. It is a great thing. That picture of Winmar which started it all off must surely be one of the great pictures of the 1990s.
In the last year or so I've discovered two other facts of interest. I recall when I was a kid, Carlton's Aboriginal half forward flanker Syd Jackson was reported for striking Collingwood half back flanker Lee Adamson. He told the Tribunal that Adamson taunted him with racial abuse. Though players rarely 'dob' each other in, and in fact often try to get those who have assailed them off, Adamson denied the claim. I think the Tribunal believed Jackson and he got off with a reprimand. I was pretty sure that Jackson was telling the truth – racial taunts were pretty standard. Adamson was a tough customer. But many years later, Jackson admitted that there was no racial taunt.
Then last weekend in the Age I read of a time eight years before Nicky Winmar's stand.
As Jimmy Krakouer, near right, the mercurial North rover, prepared for the first bounce, Collingwood ruckman David Cloke ran by, tapped his head and delivered a message.

What he said was surprising given the culture of the time . . . . Cloke told Krakouer he could not control what was said from the other side of the fence, but if any Collingwood players resorted to racial abuse, Krakouer should tell him and he would deal with it.
Now 8 percent of AFL players are Aboriginal. I've been studiously trying to avoid the word while writing this. Its a cliche alright, but all those Aboriginal players I mentioned – they were mercurial! Fast, strong, and nimble as quicksliver. And – like Winmar's defiance that day – a joy to behold.