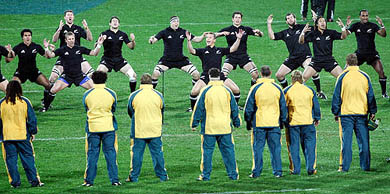 Like the Wallabies and the All Blacks, Australians and New Zealanders argue about who's economy is doing better and why. Well we're not arguing about the first of those questions any more.
Coming from a very similar standard of living in the 1970s, both countries embarked on what was for the time radical restructuring plans after the disappointments of Fraser and the greater disappointments of Muldoon. But after Labor Treasurer Roger Douglas came into Labor PM's David Lange's office a couple of years into (I think it was) their first term leaving Lange wondering whether he had completely flipped his lid, New Zealand's reform trajectory became famous for its speed and ideological purity. At the time New Zealand was held up as the model, the more so when the Labor Party fell and the National Party deregulated the labour market and (I think continuing something Labor had started) reduced welfare payments as well.
Well we're not getting lectures from the New Zealanders any more. The difference in economic performance is just too embarrassing in Australia's favour. It is now is huge – at least by the standards of developed countries – as illustrated by the attached chart.
But for some of those people who were lecturing us then, the hankering to lecture dies hard. So who to lecture? Well the New Zealanders of course. New Zealand has engaged in 'stop start' reform while, in the words of Roger Kerr Australia's reform approach has reflected a "remarkably consistent, coherent and credible strategy". Makes you wonder whether the 'stop start' nature of the reform might have had something to do with the excesses of the early reform efforts in NZ and the excesses of its champions. Anyway, I'd be glad if someone can set me straight with evidence to the contrary, but it doesn't seem to have brought forth much soul searching from those champions about their own possible role in the ecology of 'stop-start' reform.
Before proceeding, I should stress that I don't know the answer to why Australia has performed so much better than New Zealand. I think it's a real mystery. But the recently published CIS publication entitled Why is Australia So Much Richer than New Zealand? (pdf) by Phil Rennie didn't help me work it out much. It is an interesting read. That having been said, perhaps I'm just congenitally naive, but I must admit that, having an interest in the subject which I've expressed a few times on this blog, I'm disappointed with the paper. It constantly 'cherry picks' to make favoured points in line with the author's priors rather than focuses carefully on the explanatory question at hand. For instance points made about events in the last five years are strictly speaking pretty irrelevant to the diagnostic effort of trying to figure out why Australia has outperformed New Zealand.
And the paper seems unimaginative in the things it doesn't look at, blinkered in the things it does look at only to look away and wilful in some of the lessons it draws from the contrast between Australian and New Zealand policy. One of its strongest policy conclusions is that we adopt one of the CIS's favoured policies despite the fact that the policy is to revert to New Zealand style reform – by jettisoning Australian style reform.
The paper rules out a bunch of explanations for the differential economic performance as valid in any strong way. Thus for instance the mineral boom here is roughly mirrored in the price rises that NZ commodities have enjoyed. The paper points out that NZ is actually more trade exposed so that means that terms of trade improvement have higher leverage there. Still, I wonder if NZ's terms of trade gains have given rise to as much investment and as big a surge in government revenue as they have here. I've not looked and in a way it's all pretty irrelevant to the long run story in any event for reasons I mentioned above – the phenomenon is only about half a decade old.
The paper quotes reputable sources (like IMF research) claiming that as much as 50% of the gap between NZ and other OECD countries is due to its distance from major markets. Perhaps the research addresses this, but since where explaining the change over the last 35 odd years it seems unlikely that it's that relevant – though there is some evidence (I didn't see it cited) that the relative tyranny of distance has got worse (as the absolute tyranny of distance has got much milder). As the paper says "Over the last thirty years, New Zealand hasnt moved further away from the world, and Australia hasnt moved any closer."
The major explanation the paper offers is that us Aussies have been investing in capital for our workforce while the Kiwis have not. This is true enough but seems implausible to me as the only explanation – the deviation seems much too big – but the relationship seems pretty clear. Still, on my reading, that's what the study hangs its hat on.
The paper then asks if the problem is a lack of capital or a lack of opportunities to invest.
Lack of capital seems to turn up in the country's accounts. Look at that current account deficit below (in bold) stretching as far as the eye can see.
| | | | | | | |
| --- | --- | --- | --- | --- | --- | --- |
| Key indicators | 2007 | 2008 | 2009 | 2010 | 2011 | 2012 |
| Real GDP growth (%) | 3.1 | 2.8 | 2.9 | 2.7 | 2.9 | 3.0 |
| Consumer price inflation (av; %) | 2.5 | 2.6 | 2.5 | 2.3 | 2.3 | 2.3 |
| Budget balance (% of GDP) | 4.8 | 4.5 | 4.6 | 4.7 | 4.8 | 4.9 |
| Current-account balance (% of GDP) | -8.1 | -7.5 | -7.1 | -6.8 | -7.0 | -7.2 |
| Short-term interest rate (av; %) | 12.7 | 12.7 | 12.2 | 11.8 | 11.6 | 11.6 |
| Exchange rate NZ$:US$ (av) | 1.37 | 1.41 | 1.50 | 1.60 | 1.67 | 1.77 |
| Exchange rate NZ$:¥100 (av) | 1.17 | 1.34 | 1.56 | 1.71 | 1.82 | 1.9 |
Source: The Economist
However it turns out that author is not too interested in the 'lack of available capital' explanation. Although he cites the persistent correlation between the level of investment and savings across countries – relationship that has survived the globalisation of capital markets – he doesn't accept that there's a problem, citing long term interest rates.
It's true that the long term bond rate between the two countries has been similar between the two countries though there's been a small but significant gap with Australia having lower long rates for a while (though I've not checked this carefully). The author certainly wouldn't want to cite short term rates – and he doesn't. Short term interest rates are the highest of any developed country as they've been for a fair while and as they're expected to remain for a fair while. Short rates have been substantially higher in NZ for many years. Have a run through real interest rates for the recent past for yourself on this page. The cost of equity capital is harder to measure, but one big difference between the two countries is the extent to which Australia's equity capital market has boomed compared with New Zealand. This doesn't rate much of a mention – and I'm not sure of its significance, but it seems suggestive to me. Looks like the capital washing around our equity markets isn't doing us much harm.
So what's the explanation for the lower level of capital per worker – produced by a lower level of investment per worker? Well the paper doesn't really offer one. The paper offers what I call the 'body language' of an explanation, but it isn't really an explanation at all. It says that the alternative to the 'lack of funds' explanation is the 'lack of investment opportunities' explanation. It doesn't take that idea far, because it then doubles back to what seems in effect to be a cost of capital argument (which seems to me to be an availability of capital argument, not an availability of investments argument but I guess it depends on how you define terms).
It argues that investment has been scared off by NZ's 'stop-start' approach to reform. But if that's the case you'd expect to see some corroborating evidence – like investment and perhaps equity premiums changing at important times when reform stopped and or started. And the things that the paper cites as things that scared off capital are pretty tame. Issuing instructions to Telecom. Air New Zealand, and Personal Injury insurance have been re-nationalised. Well we've not renationalised anything much – but this is small beer. The kind of thing that constitutes background noise. And remember, this is a comparative study. We've been screwing around with Telstra since Kim Beazley first moved from defence.
A stronger part of the paper is where it cites the possibility that one reason for the increased capital labour ratio might be Australia's "more rigid, unionised system of industrial relations than New Zealand, with a high minimum wage and national awards that set pay levels." That's where we'll take up in part two.