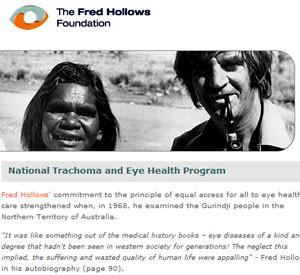 In reading for Best Blog Posts 07 there are several first rate posts on the aboriginal intervention.  And one of them linked to this fascinating piece by one of our great journalists – Jack Waterford – of a more clearly well motivated exercise in the mid to late 70s.  Then the intervention was about the scandalously high incidence of the blinding disease trachoma, and it was led by a wild irrascible type who went on to distinguish himself further as a genuine Aussie saint, Fred Hollows. This is how the piece ends.
We worked hard, in short, to make the people partners in our program, and to give individuals, families and groups a strong sense of ownership. Most of the time, of course, we were heavily self-critical, thinking that we could have, or should have, done it better, but that we were doing it better than it had been done before we were always pretty confident.

I wish I could be as confident about the task forces starting out first with cops, then with army officers, then some doctors not yet consulted or organised, with alienated state infrastructure and no sense of engagement with the service providers on the ground, let alone the objects of the attention. Complete with abuse by the minister of the people whose cooperation he needs, and the general implication that anyone who stands in his way, or doubts his good intentions, is an apologist for child molesters.