A digest of the best of the blogosphere published each weekday and compiled by Ken Parish, James Farrell, Gilmae,  Gummo Trotsky, Amanda Rose,  Tim Sterne, Stephen Hill and Saint.
Politics
Australian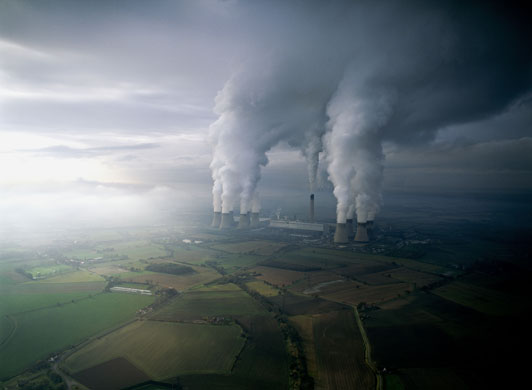 RWDB JF Beck thinks this Guardian photo is typically misleading greenie propaganda, because it shows steam from cooling towers not CO2 smoke. Only problem with his argument is that water vapour is an even more potent greenhouse gas than CO2 (although it tends to precipitate rather more quickly)
Mirko Bagaric has a surprise for Treasurer Wayne Swan; he also provides sound advice on what to do if you see someone in peril near Lord Archer or Baroness Thatcher.
The Currency Lad on loony Liberal specks and loony Labor planks. Jason Soon (who seems surprised at the revelations of Irwin's lunacy) adds a brief note on labels applied by loony Labor to Israel. 
Harry Clarke uses the problem of "white-flighting" from NSW schools as a case for rethinking our migration and refugee programs, while Andrew Norton – who notes the lack of statistical evidence – prefers Laurie Ferguson's "black spread" solution than even limiting "white flight" through cutting private school funding, if "white-flight", is indeed, a fact.
The Analyst reviews Morris Iemma's first year since his re-election (gilmae thinks it seems like much much longer).
Sedgwick is bemused by the way The Hun chooses to protect the identity of an anonymous source.
International
Philip Gorski on class, nation and covenant in Obama's "More Perfect Union" speech.
Hilzoy exposes another porkie pie by Hillary Clinton and her blood boils at a US government decision to deport a heroic Kurdish migrant.
Rip Van Lovell awakens from a catnap to find that John McCain's 'League of Democratic Nations' is already up and running.
Darryl Mason doesn't waste any civility – neither the old-fashioned kind or the newer stuff – on Dick Cheney's attitude to American opposition to the War in Iraq. The Whitehouse transcript of the (US) ABC interview which caused the current furore suggests that the interview was edited for dramatic impact.
Savo Heleta takes a detailed look at the tragic situation in Darfur.
Michael Totten looks at Kosovo as the Israel of the Balkans, while William R Polk looks at Iran: danger and opportunity.
Mark "Oz Conservative" Richardson applies his inimitable approach to China and sees sympathy for Tibetan rioters as merely an artefact of white liberal intellectuals.


---
Economics
Andrew Leigh and Joshua Gans have failed to persuade Nicola Roxon to phase in the increase in the baby bonus. Andrew notes that her reason for opposing it is identical to his reason for suggesting it. Joshua was hoping for an outright freeze, leading to an outphase.

Peter Martin applauds Ross Garnaut's proposal for an emissions trading system as does Johsua Gans.
Harry Clarke supports a Productivity Commission enquiry into paid maternity leave and ridicules "concerned femmes" and Pru Goward who think it should just be introduced post haste.
Possum Comitatus publishes the second part of a long and impressive analysis of Australian housing policy.
---
Law
Sandy Levinson looks at the issues surrounding the US Supreme Court's agreeing to hear a case about the constitutionality of Federal Communications Commission rules regarding fleeting expletives in the media.  Fucking hell!  See, that was one just went past then.
---
---
Issues analysis
Jennifer Marohasy has a link round up of blogger reactions to Pearson's article in The Australian, in which her interview on ABC National is cited:
Duffy asked Marohasy: "Is the Earth still warming?"
She replied: "No, actually, there has been cooling, if you take 1998 as your point of reference. If you take 2002 as your point of reference, then temperatures have plateaued. This is certainly not what you'd expect if carbon dioxide is driving temperature because carbon dioxide levels have been increasing but temperatures have actually been coming down over the last 10 years." ((This isn't so much issues analysis as a recitation of blatantly dishonest and misleading standard climate change denialist nonsense, but I suppose it's good to have it highlighted in Missing Link in the interest of completeness.  Hopefully someone like Tim Lambert will be bothered churning out yet another rebuttal of these tired old canards ~ KP)) 
Tim Blair, as usual, prefers the New York Times, and insists it is olden warming.  Really olden.

Lauredhel invites discussion on why Caesarean sections are increasing; she provides a few reasons and non-reasons of her own.
Brad DeLong ponders the pros and cons of free trade versus fair trade over a morning coffee.
Slim Pickens points to new research showing that speed cameras actually do significantly reduce both driving speeds and pedestrian fatalities, but this dosn't stop Miranda Devine publishing her usual fact-free column dismissing them as mere "revenue raisers". 

---
Arts
"She just couldn't wait to spend the money, could she?"
From Mr Eugenides, purveyor of snark (and probably the only Greek Scot in the blogosphere)
Owen Hatherly is impressed by Jean-Luc Godards ferocious 1970 film, British Sounds; Emmy Hennings is considerably less enamoured with Gus Van Sants cowardly and self-indulgent Paranoid Park.
Alison Croggon reviews the Kransky Sisters and other acts at the Melbourne Comedy Festival, and promotes a book of her own poetry available for free on the web. 
Amanda Rose reviews Loudon Wainwright III's performance and various other acts  at the Blue Mountains Music Festival
The sad billionaire situates Rev. Jeremiah's Wright's oratory in the context of modern African American aesthetics:
Just as bourgeois rap critics have not yet learned to listen to hip-hop as a contradictory gestalt that scrambles the logic of Western aesthetics intentionally, so critics of Wright's sermons appear not to believe that the form (the sermon), context (religious worship at a particular historical conjuncture), and larger literary and aesthetic tradition (African American oratory writ large) matter in evaluating his "message"…
With a Village Voice essay by David Mamet strangely becoming the next front in the phony culture wars, Alison Croggon questions Mamet's assumptive belief of having a past history as a woolly-minded liberal, while Kim Jameson at Larvatus Prodeo ponders whether Janet Albrechtsen has got a little over-excited in her selective quotation of Mamet's essay. Surely this dull admixture of polemics and art is not particularly eludicating, particularly when Albrechtsen would probably be the first to submit a complaint to Sen. Benardi's Senate Inquiry into Swearing after a brief viewing of Glengarry,Glen Ross. But maybe the more interesting question out of all this is, which salesmen in Glengarry, Glen Ross utters the most obscenities? Returning to Mamet it does seem strange that the author of Oleanna in his writing was ever the straw-man construction of an American liberal, as Mamet like any good writer of dialogue was able in his plays to move beyond the static caricatures in documenting the motivations and drives of his assemblage of characters. As Allison Croggon notes it would definitely be a loss to theatre if Mamet's later work veers off into the territory of didactic passion-play :-
It seems to me that Mamet might have been more interesting as a playwright when he was less aware of what he thought, and that it is this self-recognition, rather than any essential shift in perception, that might be the problem with his recent work. There's a reason why poets are supposed to be blind. In any case, a work of art that strikes beyond the superficial simply isn't biddable to such simplistic divisions, however much commentators – flapping in from the right or the left – attempt to rip off its limbs in order to stuff it into whichever ideological box takes their fancy.
---
 Sport
Norman Geras reminisces about Mark Waugh's genius as a slips fieldsman. 
Shaun Cronin argues that NRL leagues clubs may need to emulate Souths and ditch the pokies.
Mike Salter on the weekend's soccer Australia versus Singapore 0-0 draw soccer "friendly":
If last night's tedious match in Singapore had any value at all, it was surely to underline the fact that Pim Verbeek was, by and large, right to suggest that the A-League troops are not quite up to negotiating the "Asia shift" on their own. 
---
Snark, strangeness and charm
Pavlov's Cat flaxes whimsical.
Simon Jackman points out that Gough Whitlam never used the word c**t in Parliament, he was way too cunning and classy for that. 
Slim Pickens is disinclined to waste any civility on Chris Berg's defence of fast-food marketing in The Sunday Age.
Skeptic Lawyer publically owns her nerdery, her libertarianism, and her individualism – all without a hint of romance.
The Editor at GrodsCorp trains his binoculars on Tim Blair's flying monkeys as they dismember another hapless blogger.

Ashleigh is agro. No, not the puppet. Ticked off.
Darlene Taylor takes a look at Melbourne beggars/bums/hobos/vagrants/tramps (in Darwin they're called "long-grassers" and the late lamented Lord Mayor George Brown proudly claimed to be one of them).