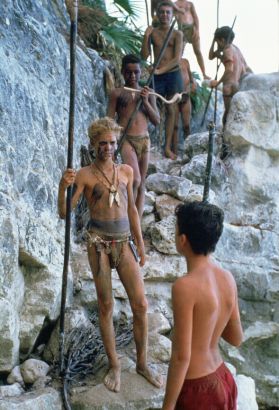 In campaigning for the State election John Brumby racked his brains wondering what he could promise for the state education system and, at some cost, came up with . . . school camps. Can't say I thought it was the most important thing that could be done with a few additional millions of dollars in education, but what would I know?
School camps are all the rage in Australia's private schools, or at least Victoria's ones. They raise equity problems at state schools because they're expensive. Not so much of a problem at the more expensive end of the private school market. Indeed some schools have you spending literally over a thousand dollars on carefully prescribed camping kit.
Of course if kids want to go on these things that's well and good.  But lots of kids don't.  But there seems to be a strong consensus in schools that these exercises are Very Good. So much so that some schools actually spend a term or a year in semi-camp conditions – although obviously for that period of time it's a cross between a camp and a boarding school. This also seems to be growing in popularity.  I recall Prince Charles going to Timbertop, but now there are quite a few similar operations.
I heard the Principal of one Melbourne girls school say that their year 9 exercise where all the girls go away for the entire year really matures the girls. I've also heard of horror stories in which eating disorders surge and bullying reaches new heights.
Anyway, as you know Troppo shares virtually all of its basic philosophies with Fox News, most particularly our commitment to open and honest deliberation. In what may (but almost certainly wont') become a series of such posts, we ask . . . . What do you think (Oh Troppodillians)?