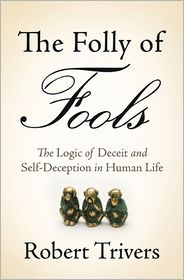 The latest psychology bestseller The Folly of Fools is on the triumph of deceit. It looks quite interesting. Anyway, it looked a bit too focused on the bestseller formula – which is often the book of the article formula for me to want to read it all. But I've downloaded my Kindle sample and will see how it goes. In the interim I hunted down a few reviews. And an interview at Salon here. The author had a blinding flash of insight.
Working on parent-offspring conflict, I suddenly had this flash of insight: "Ah! If self-deception improves your ability to deceive others, then you would have a strong selective force to get it into your consciousness."
Well, on inspection it may not have been blinding, but we have it on the author's authority that it was an insight.
In any event it struck me that it was an inversion of Smith's Theory of Moral Sentiments. In that book, as the child grows conscience begins as an H.L. Mencken conscience. H.L. Mencken said that conscience is that little voice inside us that tells us that someone might be watching. But over time the child internalises the idea and comes to acquire an impartial spectator, a 'man within the breast' whose approbation he craves. I had my own insight which is that the new bestselling insight is the inverse of Smith's insight about how good can come from internalising things. Smiths' insight is an insight into humans as rhetorical creatures (Smith's first academic job was as a teacher of rhetoric and belles lettres). Alas this insight is less visible to us now than it was to him.
Then rhetoric was the study of communication and persuasion. Today it is rhetoric as in 'mere' rhetoric.
The rift which occured between the view of rhetoric as a central aspect of intellectual endeavour and our own conception of rhetoric as essentially cosmetic is captured comically in this passage by Howell.
The chasm which yawned between the elocutionists, on the one hand , and the traditional or new rhetoricians of the eighteenth century [Smith was one of the finest of the new rhetoricians.], was very wide. . . . Its width at its greatest extent . . . can be suggested by a comparison of the intellectual level of the first sentence of Aristotle's Rhetoric with that of the first sentence of an American elocutionary textbook of the late nineteenth century. Both of these works were intended for mature students. Said Aristotle: "Rhetoric is the counterpart of dialectic." Said the elocutionary textbook: "Always inhale through the nostrils."
Howell, W.S., Eighteenth Century British Logic and Rhetoric, New Jersey, 1971, p. 713-4.