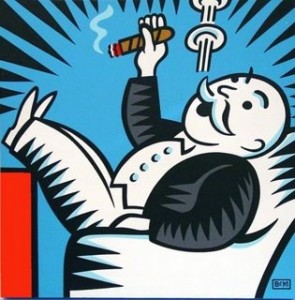 Well gentle readers, it's come to this. Scottish independence is going down to the wire. It is hanging by a thread, though if you are concerned that I am mixing my metaphors, I think you're flogging a dead horse after it's bolted.
In any event, in the question of Scottish independence the question of what currency it will use is the elephant in the room – the sporran on the kilt. If you've not been paying attention, the Scottish separatists have been insisting that they can pick up someone else's currency – the Euro or the Pound – and otherwise enjoy independence.
Paul Krugman is horrified that so soon after the debacle of the Euro the Scots could contemplate this. He's studiedly agnostic as to whether it might be worthwhile if they had their own currency and focuses on the prospect that they might repeat the disaster of the Euro, or imaging that a monetary union might be a Good Idea outside of a political union. I'm in broad agreement though I think he might be overdoing it a bit.
Meanwhile Joe Stiglitz fancies the idea of Scottish independence if it can help carve out of the British Isles a more egalitarian nation leading him to rather downplay the significance of leaving a political union without also leaving its monetary union. I'm sympathetic to his deprecation of economies of scale as being a big part of the decision. Firstly if you want to be a nation, if you incur a few costs in doing so, that shouldn't be a big deal in your decision. Further, quite a lot of Scottish governance is already different to British governance so the costs are already there. (As Adam Smith thought in the area of education, some Scottish governance may well be superior. When I was in law school my Evidence teacher was very much enamoured of the Scottish legal institution of the Procurator Fiscal [which is nothing to do with fiscal policy by the way]. But I digress.)
Anyway, one thought that seems largely absent from the debate is that, in this age of the internet, it might well be possible to run a separate currency at a tiny fraction of its current economic cost at least as far as access to foreign exchange (FX) in the spot market is concerned.
A large corporate spends around 7 to 15 basis points on exchanging foreign currency. One might ask why it isn't a lot lower than this. With over $4 trillion a day in trading, and trading simply being the swapping of liabilities and assets on a leger with your bank's bots talking to another bank's bots, 7-15 basis points seems like an awful lot. After all, to write this post, my bots talked to a bunch of other bots, and they did it all for free. But what's really amazing is that this is the tip of the iceberg. Most transactions – even relatively substantial business transactions – generate spreads that are at least an order of magnitude higher than this. More commonly they're around double that, and some FX transactions like remittances for those on low incomes are around two orders of magnitude or one hundred times higher!
In the age of the internet, I'm not sure why the economics of this can't be made similar to the economics of the internet which would enable such transactions more or less freely providing people meet any fixed costs of attaching themselves to the network. The internet is the only perfectly competitive bit of infrastructure I can think of. But banking is monopolistically competitive and so suffers from pricing that is in some regards radically at odds with costs, as is the case with the pricing of text messages or 'international roaming' in telcos. (If you're interested, this fascinating article argues that the situation is much worse than the simple inefficiencies of monopolistic competition.)
So the Scots could establish a separate currency. They could then task their central bank or other agency with appropriate backing, with getting cost reflective foreign exchange to their businesses, citizens and to as many of those who trade with the Scottish as possible. I'm thinking aloud here, so would be happy to be corrected and/or to receive better suggestions, but the way I think this might be done would be something like this.
The Central bank, or a nationally owned bank or a private bank which contracts with the government to do so, purchases foreign exchange with Scottish Sporrans (the new currency). It cuts in anyone who wants to participate and who pays some cost reflective set up fee to be part of the system whatever  brokerage it takes to sell them the foreign exchange without making a loss.
It can quote two prices – one which is a price which includes some risk margin because the bank is guaranteeing a set rate for the transaction. The other can be without any risk margin to the bank, because the price will be determined in the market in the next few nano-seconds. It imposes cost reflective charges for each kind of transaction.
There are two important limitations.
The futures market is a major part of the workings of the foreign exchange market and I have no particularly bright ideas here. However it may well suffer from inefficiencies derived from the spot market which might be moderated by a more efficient spot market or might be alleviated in ways which are similar to the measures I've proposed in the spot market. Ideas and comments welcome.
The aim is to reduce the FX margin on Sporrans for Scots and non-Scots in both directions. This might be enough for businesses to efficiently transact Sporran FX but there's more work to be done to get these prices to everyone in the market. I'm thinking of my own FX arrangements when travelling which are delegated to credit card providers. They run platforms which have considerable pricing power, not just because there aren't many of them and they're hard to replicate, but also because even though they price way above the costs of delivery, their charges are still very low as a percentage of the transactions – and so price elasticity of demand is low. (Economists' mental models, accustomed as they are to abstracting from transactions costs tend to airbrush this out of their intuition. They should pay much more attention to de minimis phenomena.)  It should be possible to think of some worthwhile actions here, but we'll leave that for another day – or for comments below.
So O Troppodillians, I ask ye, what is there not to like?
Oh and of course if this reasoning is on the right track, it raises the broader question of why we don't do this more broadly.