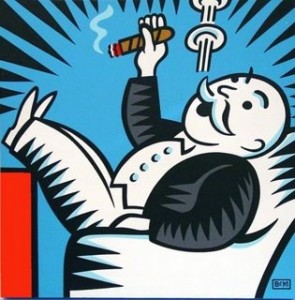 Well gentle readers, it's come to this. Scottish independence is going down to the wire. It is hanging by a thread, though if you are concerned that I am mixing my metaphors, I think you're flogging a dead horse after it's bolted.
In any event, in the question of Scottish independence the question of what currency it will use is the elephant in the room – the sporran on the kilt. If you've not been paying attention, the Scottish separatists have been insisting that they can pick up someone else's currency – the Euro or the Pound – and otherwise enjoy independence.
Paul Krugman is horrified that so soon after the debacle of the Euro the Scots could contemplate this. He's studiedly agnostic as to whether it might be worthwhile if they had their own currency and focuses on the prospect that they might repeat the disaster of the Euro, or imaging that a monetary union might be a Good Idea outside of a political union. I'm in broad agreement though I think he might be overdoing it a bit.
Meanwhile Joe Stiglitz fancies the idea of Scottish independence if it can help carve out of the British Isles a more egalitarian nation leading him to rather downplay the significance of leaving a political union without also leaving its monetary union. I'm sympathetic to his deprecation of economies of scale as being a big part of the decision. Firstly if you want to be a nation, if you incur a few costs in doing so, that shouldn't be a big deal in your decision. Further, quite a lot of Scottish governance is already different to British governance so the costs are already there. (As Adam Smith thought in the area of education, some Scottish governance may well be superior. When I was in law school my Evidence teacher was very much enamoured of the Scottish legal institution of the Procurator Fiscal [which is nothing to do with fiscal policy by the way]. But I digress.)
Anyway, one thought that seems largely absent from the debate is that, in this age of the internet, it might well be possible to run a separate currency at a tiny fraction of its current economic cost at least as far as access to foreign exchange (FX) in the spot market is concerned. Continue reading →